Petrea volubilis or queen's wreath is a tropical plant that produces beautiful purple flowers that resemble wisteria. This fast-growing vine is edible. You can eat its roots, flowers, leaves, and seeds.
Petrea volubilis plant profile
Queen's wreath, scientific name Petrea volubilis, is a fast-growing member of the Verbenaceae family.
This tropical plant produces beautiful purple flowers that resemble wisteria.
In addition to the common name queen's wreath, it's also known as:
Purple wreath
Sandpaper vine
Bluebird vine
Coral vine
The flowers of the purple queen's wreath produce nectar that's extremely attractive to many pollinators, making it a favorite in the garden.
Queen's wreath is usually grown as a woody vine, but it can also have a shrub-like appearance if not supported and trained.
Queen's wreath Identification
Queen's wreath is a twining vine producing star-shaped, tubular flowers that grow inside purple calyxes (the base of the flower).
Sprays of purple flowers grow in dense clusters called a raceme and, at a distance, can be mistaken for grapes.
When the flowers die, the purple calyces are left behind, creating an attractive display of their own.
The leaves of the queen's wreath are large, sometimes measuring as long as 9 inches. Oval in shape, the leaves have the unique quality of being stiff and rough to the touch – like sandpaper. Hence the name, sandpaper vine.
While the queen's wreath is most commonly found in purple, a cultivar called Albiflora produces white flowers in a similar shape and arrangement.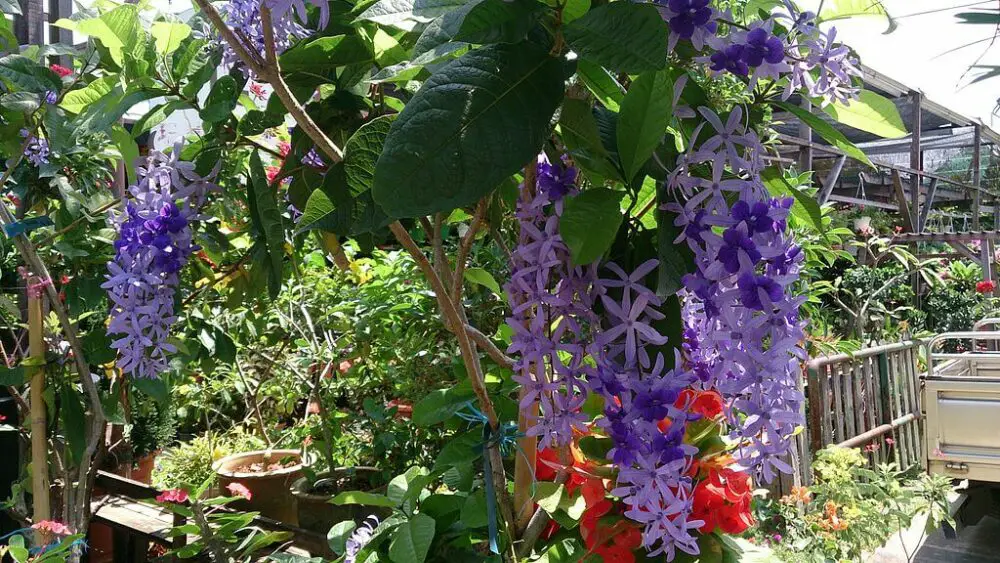 Is the queen's wreath the same as wisteria?
Although similar in appearance and sometimes referred to as tropical wisteria, the queen's wreath is not the same plant as common wisteria.
Wisteria is in a different genus and is native to Asian countries. Depending upon the variety, wisteria can also become invasive and problematic.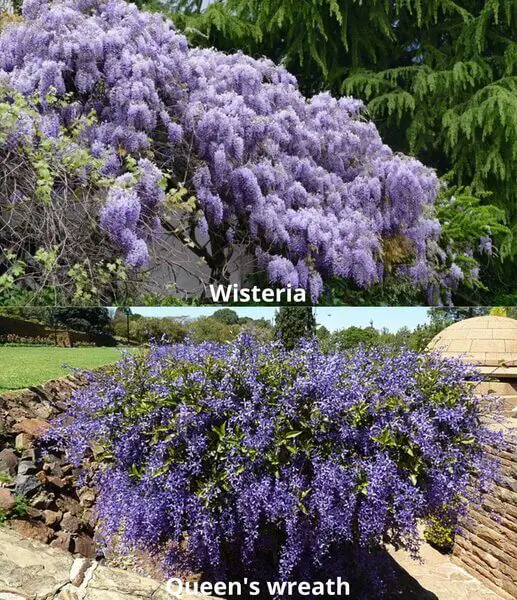 Where does the queen's wreath grow?
As a tropical plant, the queen's wreath vine can be found in many areas of Central America, South America, and Mexico. It's also frequently found in regions of Paraguay and the Caribbean.
In North America, queen's wreath has a limited range, growing best in USDA hardiness zones 10-11.
Petrea Volubilis: edible parts
This fast-growing vine is edible. You can eat its roots, flowers, leaves, and seeds.
How to use the edible parts
There are a number of ways to harvest and prepare queen's wreath:
Leaves: Can be made into a tea that's not only tasty but is also said to reduce blood pressure and treat diabetes.
Flowers: Can be added to salads or soups. Another popular preparation method is to dredge the flowers in flower and fry them, much like you would squash blossoms.
Roots: Have a rich nutty flavor when roasted or pan-fried.
Seeds: Can be ground into flour, roasted, or used as a garnish in salads.
How to grow and propagate a queen's wreath
Queen's wreath can be easily propagated and grown under the proper conditions.
Options for propagation include:
Rooting from cuttings: Involves cutting portions of the plant off and placing the cut side down into the water. After several days to a few weeks, roots will form, and the cutting can be planted.
Air layering: This involves wounding the plant (making a shallow cut into an area of the stem) and wrapping that area in moist sphagnum moss. You will then need to secure the moss around the cut and wrap it with plastic wrap to maintain moisture. Roots will form in 2-4 weeks, and that portion of the plant can be taken and planted directly into the soil.
Seed planting: This will take the longest with new plants not producing blooms for a year or more.
When planting your queen's wreath, be sure to place it in an area with full sun or partial shade and moist soil.
This fast grower will also need support and a structure on which to climb. Trellises, pergolas, or fences are good choices and present an excellent opportunity for the flowers to be displayed.