Enjoying a delicious mug of mushroom hot chocolate is a great way to get your chocolate fix and boost your well-being. Mushroom powder is a superfood packed with nutrients and can be easily added to a cup of hot cacao for a healthy and delicious drink.
Why put mushrooms in hot chocolate?
While it may seem strange to mix chocolate and fungi, there are many health benefits to consuming mushroom cacao. This is because adaptogenic mushrooms are used, which are known for being exceptional at helping the body handle physical and emotional stress.
They also have the following benefits:
Anti-inflammatory
Antioxidant
Immune support
Sleep aid
Increased memory and focus
Anti-aging
Energy
Lower cholesterol
Alleviate depression and anxiety
Lower blood pressure
Toxin remover
Improve liver health
Cancer-fighting
In addition, adaptogenic mushrooms contain a polysaccharide called beta-glucans. These compounds are gaining a lot of attention in the wellness world for their numerous health benefits, including anti-cancerous, cardioprotective, and antimicrobial properties.
Make sure to also check out our video on other common plants to forage for better sleep.
What does mushroom hot chocolate taste like?
Mushroom hot chocolate is made by adding mushroom powder, which doesn't affect the flavor much. It adds a hint of earthiness to the chocolate flavor.
One of the great things about mushroom hot chocolate is it can be modified to taste however you'd like.
Suggestions:
If you like it spicy, add some cayenne pepper or cinnamon
If you prefer it sweet, add sugar to taste, or a touch of vanilla
Instead of sugar, add maple syrup or honey for a natural sweetener
Use any milk you prefer (cow, almond, soy), or hot water for dairy-free
Types of mushrooms to Use
To make mushroom hot chocolate, you want to use adaptogenic mushrooms, which are not the same type commonly bought at the grocery store and used in cooking. These medicinal mushrooms are bitter with a fibrous, woody texture.
These mushrooms are not typically eaten but rather dried and ground into a powder.
Types include:
Reishi mushrooms (help improve sleep quality)
Lion's mane mushrooms (help increase memory and focus)
Chaga mushrooms (help lower cholesterol and are high in antioxidants)
Turkey's tail mushrooms (help remove toxins from the body)
Cordycep mushrooms (anti-aging properties and increased energy)
Shiitake mushrooms (bio-active compounds that may help fight tumors)
Himematsutake mushrooms (help with liver diseases)
You can choose which mushroom to use based on your desired benefit. Or you can mix several to create a mushroom blend for optimal health benefits!
In addition, mushrooms like reishi, chaga, lion's mane, and turkey tail are easy to find and forage if you want to make your own mushroom powder.
Otherwise, they can be purchased online or at your local health food store.
Did you know that Reishi, Lion's Mane, Chaga and Shiitake mushrooms are also known for its benefits to your gut health? Check out our video below to find out more!
Mushroom hot chocolate Recipe
This hot cocoa recipe calls for cacao powder which is different from cocoa powder. Cacao is the raw, unprocessed version. Cocoa takes the cacao beans and roasts them, usually adding sugar and dairy. Cacao is more bitter in flavor because there is no added sugar.
Mushroom Hot Chocolate Ingredients
2 cups organic whole milk
2 Tbsp organic cacao powder
1 Tbsp raw cane sugar
1 tsp mushroom powder
1/2 tsp vanilla
Instructions
Add ingredients to the pan on the stovetop
Slowly heat milk while whisking in ingredients until warm and frothy
Pour into a mug, and top with marshmallows and a pinch of cinnamon
For other variations on mushroom hot chocolate, check out these recipes I tested and found delicious:
How to make your own mushroom powder
To make your own mushroom powder from freshly foraged fungi:
Rinse off mushrooms to remove any dirt or insects
Lay them out to dry in the sunlight for several hours
Slice mushrooms into smaller pieces
Put in oven at lowest temperature for 2-4 hours and check frequently
Remove from oven and allow to cool
Place in blender or food processor and grind into powder
Store in glass jars or sealed bags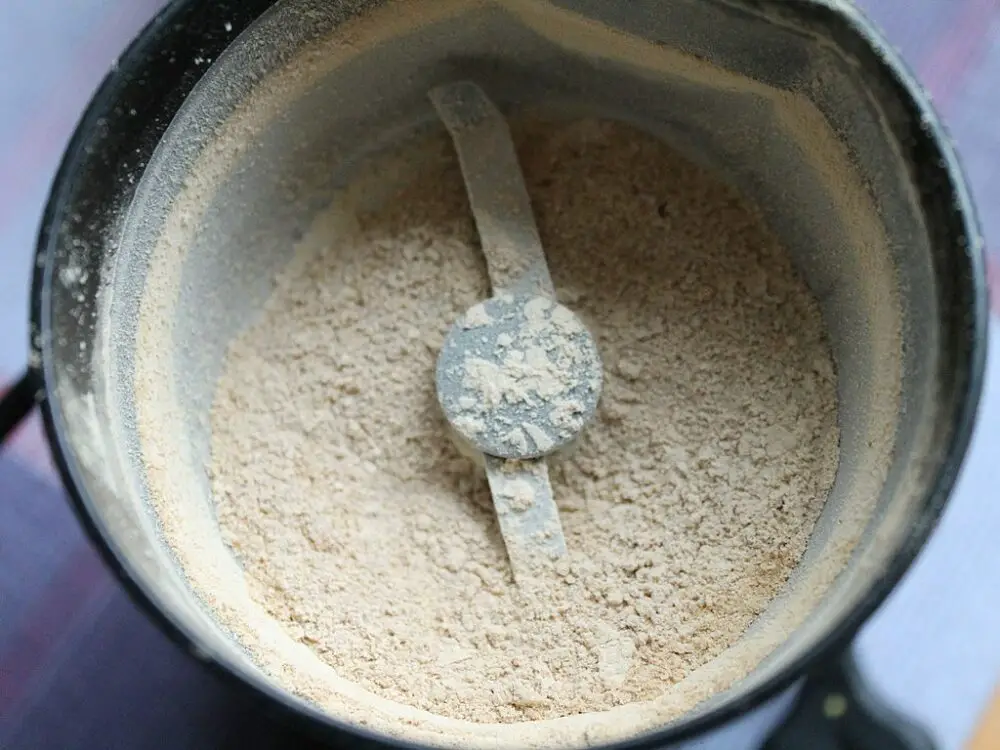 What else can you do with mushroom powder?
Mushroom powder is versatile and can be used in almost anything in the kitchen. It can be added to your regular grounds to make mushroom coffee, a mocha, or a latte.
Other uses include:
Soups
Stews
Roasts
Sauces
Ground meat
Stir fry
Sautéed or roasted vegetables
Baked goods
Smoothies
Tea