Three best foraging guides include Edible Wild Plants, Wild Foods from Dirt to Plate by John Kallas, The Forager's Harvest by Samuel Thayer, and Stalking the Wild Asparagus by Euell Gibbons.
Because foraging as a hobby is growing in popularity, there are more foraging books that can be counted. But, foraging can be a dangerous hobby for beginners.
Knowing if you need your first book, field guide, or complete guide will allow you to choose the right book for you.
Carry on reading for a list of the most popular foraging guides.
5 Best Foraging Books for Beginners
1 – 3. Books by Samuel Thayer
Any foraging book by Samuel Thayer is a top choice for beginners. Honestly, his foraging books are among the best foraging books. Foragers rave about them.
Three of his books below can also be beneficial to any beginner.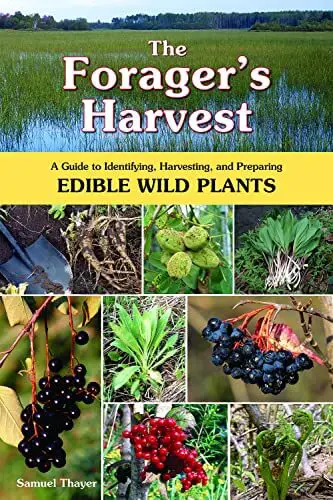 The identification information and accompanying images are incredibly high quality, making it easier for beginner foragers to identify different plants. In each book, around 30 to 40 different plants are identified. So, when you combine all three, you can quickly identify over 100 valuable plants.
The first book, Forager's Harvest, is more aimed at wild plants in the eastern half of the United States and Canada, but it's still pretty useful in the West.
However, the second two books are more helpful in covering more widespread and useful North American plants.
4. Foraging For Beginners: A Simple Foragers Guide To Wild Edible Plants And Medicinal Herbs by Kristen Barton
This beginner's book is a top choice for its helpful information and instructions. So, it's a great place to start.
Some of the things this favorite foraging book will teach you include:
The basics and rules of foraging
How to forage safely
Best foraging tools
Plant identification with photographs
Information about medicinal plants
Some recipes for edible wild plants
Some customers think identifying these useful plants would be easier if the images were color photos. But, this is still an excellent book for beginner foragers.
5. Edible Wild Plants, Wild Foods from Dirt to Plate by John Kallas
John Kallas' foraging book is a must for anyone that lives in the Pacific North West (PNW) and is new to foraging. Kallas lets you get started foraging today with this pocket guide.
Because he chose many plants that most people will already recognize, it's easy to start identifying and getting to know them better, but if you're not, this first book can help you learn about and discover them quickly.
Kallas keeps things simple with:
Basic identification
Nutrition
How to harvest
Wild plant lookalikes
Preparation and recipes
Additional Books We Recommend
Of course, there is a world of helpful foraging from which even the expert can learn something.
6. Foraging the Mountain West: Gourmet Edible Plants, Mushrooms, and Meat by Thomas J Elpel
Some criticize Elpel for discussing too few plants and following on from Thayer's works. But, Elpel states that the dry, northern bioregion of the Rockies of Montana (which he focuses on) is the least covered by Thayer.
Elpel also strongly reinforces the idea that you can always learn something new, even if that's about a familiar plant.
In this book, he goes in-depth about the plants of Montana and teaches you that there is always free and wild food to be found. Whether in the valleys, swamps, meadows, around town, or even in your backyard, you need to know where and what to look for.
Although a considerable amount of wild foods aren't identified, many choose to use this foraging book as a field guide for identifying, gathering, and preparing fantastic food in the arid regions of Montana.
7. The Tree Forager: 40 Extraordinary Tree & What to Do with Them by Adele Nozedar and Lizzie Harper
Nozedar and Harper are among the favorite books explaining how to use foraged food like fruit and other edible wild plants in crafting fermentation and herbal remedies.
Full of instructions and recipes, this foraging book is worth a read.
8. The New Wildcrafted Cuisine: Exploring the Exotic Gastronomy of Local Terroir by Pascal Baudar
This is one of those books that goes beyond all the other genres. It takes a deep dive into the flavors and needs to know of local terroir that chefs need.
9. Mushrooms Demystified: A Comprehensive Guide to the Fleshy Fungi by David Arora
There's a reason that this book is one of the most popular mushroom foraging books.
It has comprehensive and detailed descriptions and keys to 2,000 plus species of mushrooms, along with 950 photographs.
10. Stalking the Healthful Herbs by Euell Gibbons
If you're a herbalist or interested in plants with medicinal uses, Stalking the Healthful Herbs is a top choice.
Although perhaps not a traditional foraging book, this foraging book lets you use nature's garden to find herbal remedies and natural flavorings.
Do You Need a Foraging Course?
Because a foraging book is likely not enough to teach you everything you need to know about foraging safely for self-sufficiency in foraging, adopting a complete field guide is a wise option.
If you're a beginner forager still not feeling too confident about foraging, you can also try a foraging course. Courses like Wild Food Adventures by John Kallas are a great way to start your foraging journey.