Lesser burdock (Arctium minus) is quite a tenacious weed with a massive taproot that invades its surroundings and does not respond well to herbicide control. Its leaves are similar to those of rhubarb. Burdock leaves and stems may be eaten, but the root is the most commonly consumed part of the plant.
| | |
| --- | --- |
| Scientific name | Arctium minus |
| Family | Asteraceae (aster family) |
| Plant type | Herbaceous biennial plant |
| Kingdom | Plantae |
| Edible? | Yes |
Common names include:
lesser burdock
little burdock
common burdock
louse-bur
button-bur
cuckoo-button
wild rhubarb
How to identify Arctium Minus?
The common burdock plant or Arctium Minus is an unsightly, coarse weed. In the first year, the plant produces only a rosette of large leaves from a long tapering root.
By the second year, the plant has grown to a height of between 3 and 7 feet. It has long petioles that resemble the leaves of the rhubarb plant to some extent.
Second-year plants feature lower leaves that resemble the basal leaves, except that they are somewhat smaller. These leaves have an ovate-cordate shape, whitish green below and dull green above, with blunt tips.
Round, fleshy, and branched, the stem bears very large leaves, the lower ones measuring as much as 18 inches in length.
It is not until the second year that the flowers appear from July until frost. Purple in color and borne in clusters of small heads with hooked spines, the prickly burs they form are a great pest, attaching themselves to clothing, animal fur, and wool.
There is a large fleshy taproot on the plant. This root is wrinkled along its length when it is dry.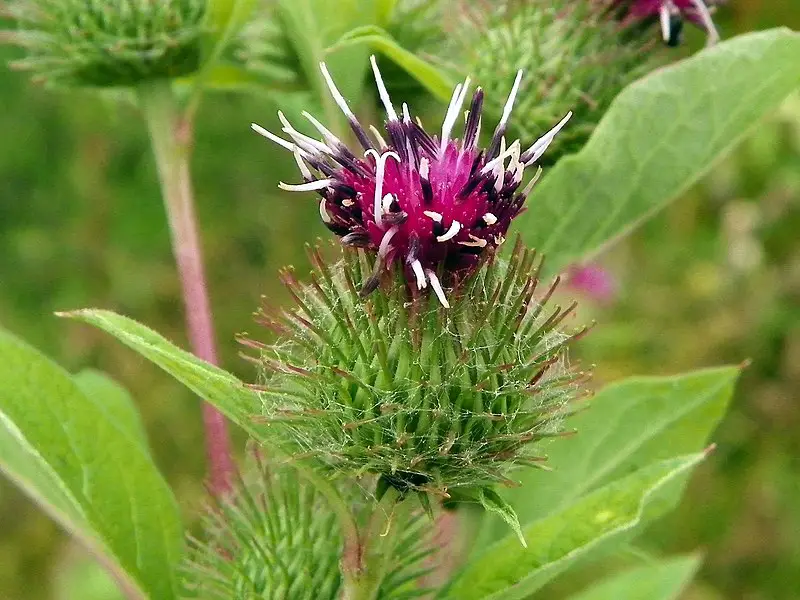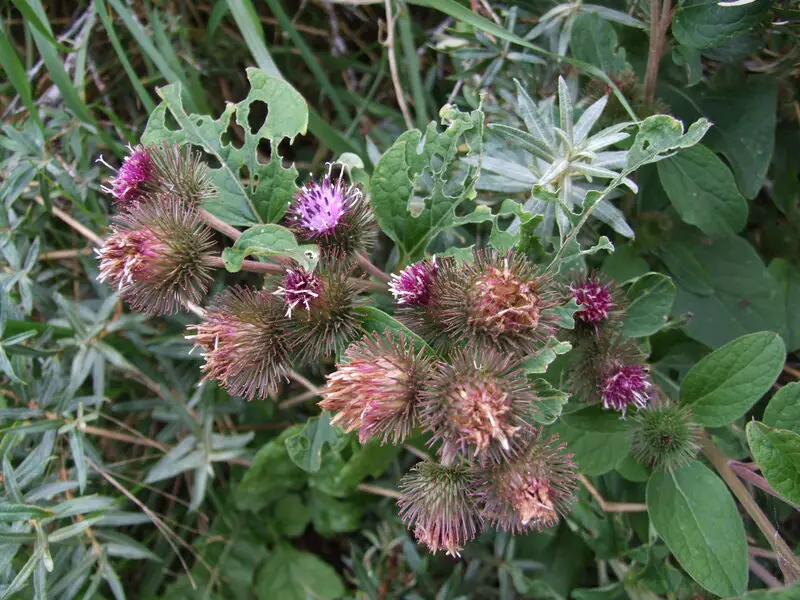 Growth and Distribution
The common burdock grows in full or partial sun, slightly moist to mesic conditions, and in loamy fertile soils. A robust plant, it can grow in a variety of soil types and drier environments.
Initially found in Europe, it is now widely distributed throughout the world. After being accidentally introduced to the US, it has proven tenacious and aggressive in its invasion.
This plant is listed on the Federal USDA plants list of introduced, invasive and noxious plants throughout most of North America.
Due to deep tap roots and copious amounts of seeds in its seed heads, the growth is difficult to eradicate once established.
Even if the plants are destroyed, the seeds will remain viable for a considerable period of time. A single plant can produce 15,000 seeds.
Native species may be adversely affected by their robust growth.
Habitats include:
woodland edges
savannas
thickets
pastures
edges of fields
edges of fence rows
weedy meadows
roadsides
barnyards
areas along railroads
waste areas
Although it sometimes appears in more pristine natural areas, particularly along paths and animal trails, it prefers disturbed areas.
Arctium Minus Vs. Arctium Lappa
Arctium lappa (great burdock), is another species of the Asteraceae family; great burdock is taller than common burdock, and it has larger flower heads.
Great burdock flowerheads are arranged in flat-headed cymes on longer stalks; common burdock flowerheads are vertically bunched together and the stalks are shorter.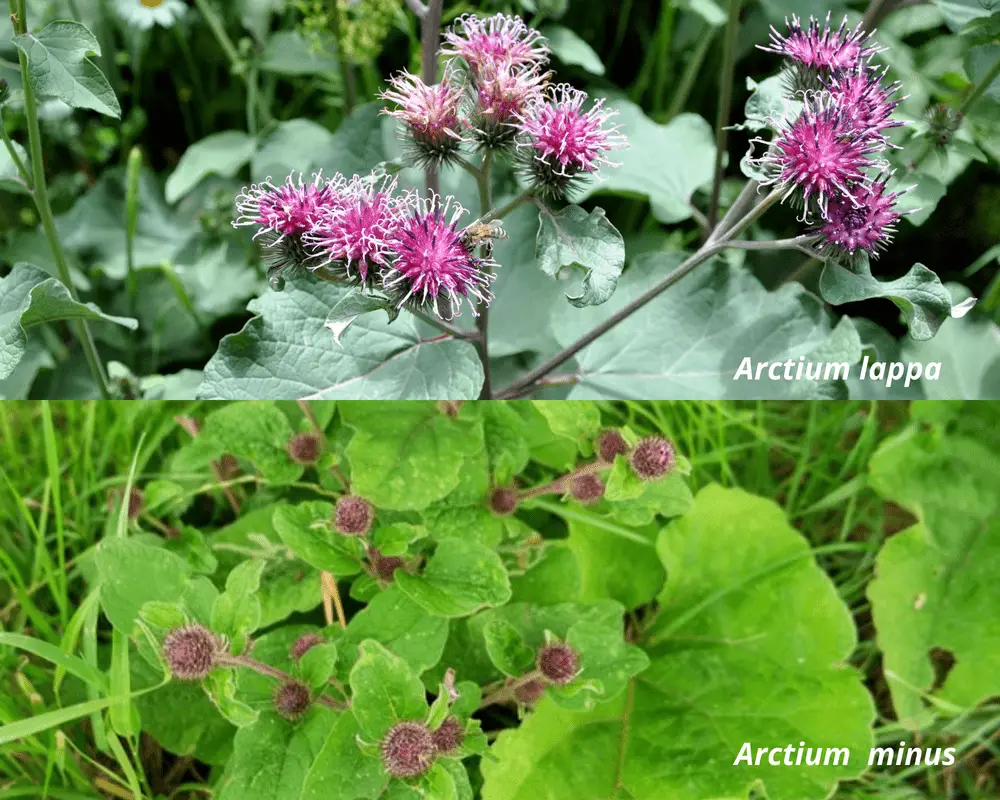 Nightshade Vs. lesser burdock
The burdock plant resembles the belladonna nightshade plant, which is extremely toxic.
It is not uncommon for these plants to grow in and around groups of burdocks. Even though nightshade does not have purple and green burrs, the leaves can look similar.
As a result, it is particularly important to distinguish between the two when harvesting burdock leaves.
Is lesser burdock the same as thistle?
The common burdock plant is another type of thistle, but one that is grown for its root. It is possible to mistake these bright pink or purple flowers for milk thistle plants.
While milk thistle and burdock belong to the same Asteraceae family, they are classified in different genera. Milk thistle is classified as Silybum, while burdock is classified as Arctium.
What is common burdock good for?
Medicine is prepared from the root, leaf, and seed. The wild form of this plant has been used worldwide for various medicinal purposes throughout its long history.
These include:
solving digestive problems
clearing skin conditions
treating colds and flu
relieving the symptoms of arthritis
passing kidney stones
fighting cancer
reducing the risk of heart disease
Is Arctium minus edible?
Burdock leaves and stems may be eaten, but the root is the most commonly consumed part of the plant.
It can be found in farmers' markets and Asian grocery stores under the label "gobo." Burdock roots look more like something you would throw on the woodpile than something you would eat.
The stout taproot is sweet in taste and can be used as a food source. Similarly, if the outer husk of the stems is peeled away, the pith can be eaten like a vegetable.
Fruits (Achenes) within these burs contain sharp, minute bristles (pappas hairs) that can become windborne and, if inhaled, can cause severe irritation to eyes, skin, and respiratory systems in humans, dogs, horses, and other animals.
Common burdock may taint milk in dairy animals if consumed in sufficient quantities.
Lesser Burdock tea
Also known as burdock root tea, burdock tea is an herbal tea derived from the root of the Arctium lappa or Arctium minus plant.
In Chinese medicine, the drink is believed to enhance immunity, lower blood pressure, treat damaged livers, and even prevent or treat cancer.
Other recipes and uses
Taking burdock increases urine flow, kills germs, reduces fever, and purifies the blood. In addition, it is used to treat colds, anorexia nervosa, gastrointestinal (GI) disorders, joint pain (rheumatism), gout, bladder infections, and complications of syphilis, as well as skin conditions including acne and psoriasis.
Burdock shoots can be peeled, shaved on a mandoline, and very finely sliced, then soaked in cold water. Mix with green onions, fish sauce, and sesame seeds for a crunchy fish garnish.
As a substitute for carrots in any recipe that calls for them, burdock works well in soups, stir-fries, and salads.